The Adoption Process
Anyone interested in adoption must submit an online application. Click here to apply. This includes a fully completed form with vet, landlord, and personal references. Please be advised that completing an application does not guarantee approval. We do not follow a "first-come-first-serve" policy. Our mission is to find the home that will be the best fit for each animal.
Approved Adoption:
If your application is approved, you will receive an email with more information and a link to pay the adoption fee. Once an adoption fee is paid, we no longer advertise that pet as available for adoption.
Adoption Fees:
Fees are non-refundable. Fees help offset the cost of spay/neuter, vet care, food, etc. Our adoption fee includes FVRCP vaccinations, rabies vaccination, FIV/FeLV combo test, spay/neuter, deworming, and a flea/heartworm preventative of the adopted pet. Post-adoption veterinary care is the financial responsibility of the new adopter.
Bringing Home My New Pet:
New pets can take anywhere from a few weeks to a few months to adjust to a new home. Please keep this in mind if you find yourself struggling through this period of transition. We are here to offer tips or advice to help you through this adjustment time. If you need to return the animal for any reason, we ask that you contact us to make arrangements. When adopting a pet, be sure you are willing to commit to a new family member who will live with you for the rest of their lifetime.

PLEASE NOTE: Homeward Bound WV, Inc. reserves the right to approve or deny any application according to our adoption policies. When submitting an application, be sure to thoroughly read the initialized portion of the contract.
The REAL COST of
a "Free" Kitten vs.
Adopting from a Rescue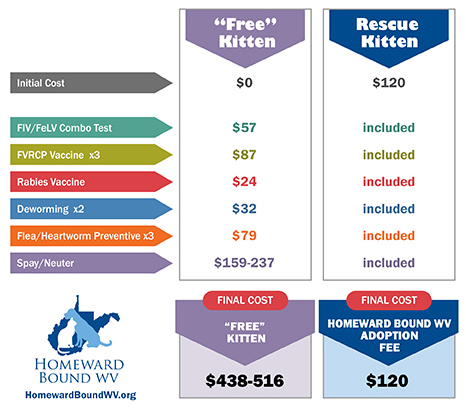 *Costs above do not include vet office visit fees and are figured on a healthy, thriving kitten. The "free" kitten's actual cost could be considerably higher.
Adoption Fees:
Once your adoption application has been approved for a selected pet, you will be notified by email which will include a link to pay the adoption fee. Once the adoption fee is received, your pet will be removed from online sources as adoptable or updated to "pending adoption" status.

Kitten/Cat Adoption Fee - $120.00
Includes:
FVRCP Vaccinations

Rabies Vaccination

FIV/FeLV Combo Test

Spay/Neuter

Deworming

Revolution (flea/tick preventative)
Homeward Bound WV Adoptable Cats