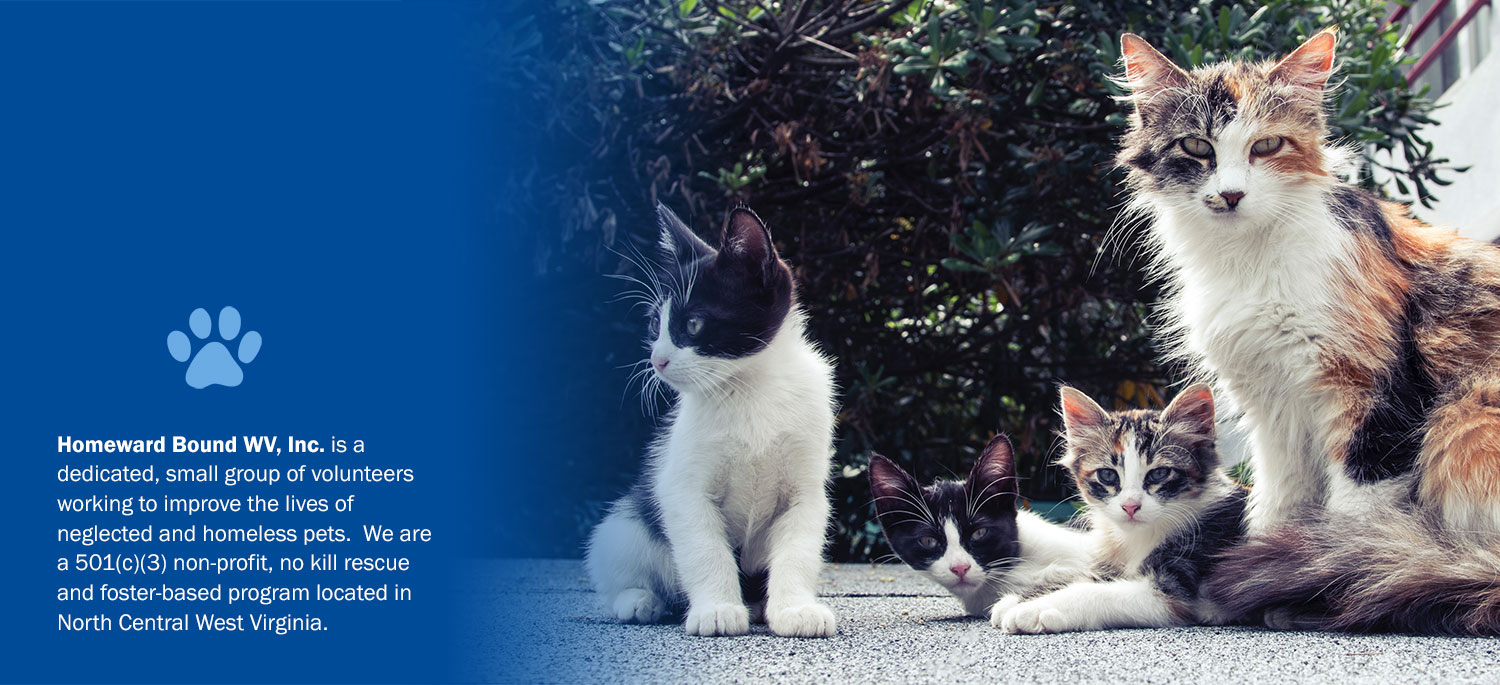 Our Mission
Homeward Bound WV, Inc., is a unique, non-profit organization dedicated to saving dogs and cats whose lives are in jeopardy and in enriching the lives of people in Monongalia and Preston Counties.
History & How We Got Here
In 2006, a small group of Preston County residents banded together to save homeless pets languishing in the county-run animal shelter. At that time, due to limited funding and a rural location, shelter animals faced a sad fate. In an effort to facilitate adoptions and determined to make positive change for the animals of Preston County, Rachel and Frank Stevens founded "Friends of the Four-Legged and Furry."
For several years, Frank and Rachel's home was a safe haven for many animals until loving homes could be secured for them. In late 2012, Rachel and Frank stepped down and a group of volunteers assumed leadership of the nonprofit organization. As a result, Homeward Bound WV, Inc. was born! A Board of Directors was appointed, a website and social media pages were launched, and the group began rescuing, rehabilitating, and rehoming cats and dogs in Monongalia and Preston Counties on a larger scale.
Today, Homeward Bound WV remains a foster-based organization which means the animals in our care are placed in nurturing foster homes where they are provided an enormous amount of love and all necessary medical attention. Hundreds of homeless, neglected, and abused pets are saved each year through adoption events, social media posts, partnerships with the Monongalia Canine Adoption Center and other pet-centered corporations, and transport to other no-kill rescues outside the state. Additionally, Homeward Bound WV, Inc. has provided free spay/neuter to over 700 animals since 2018 through our grant-funded voucher programs! Homeward Bound WV also works tirelessly toward education and outreach programs targeted at elementary and middle school-age children, covering important topics like the importance of spay/neuter, kindness to all animals, and the humane care of pets.

We Believe In:
Rescuing dogs and cats in need at local kill facilities, rehabilitation of sick and un-socialized animals, and retrieval of orphaned and abandoned pets, so that they might ultimately be adopted into permanent, responsible, loving homes.
Providing a low cost spay/neuter program (through the generosity of the Peterman Foundation and reduced fees at local veterinary clinics) for the people of Preston and Monongalia Counties for the purpose of reducing unwanted births and unfortunate deaths of animal offspring.
Providing nurturing foster homes where our cats and dogs are provided an enormous amount of love and any necessary medical attention that may be required to ensure they are in good health before adoption. When time permits, our dogs are also house-trained and taught basic obedience.
Evaluating all of our cats and dogs for temperament and personality. This helps us place them in homes that are well suited to their needs and to the needs of their future owners.
Educating prospective adopters about the responsibilities and costs of bringing a dog or cat into their homes and lives.
Educating school-aged children about stray, homeless, and feral animals and how they can help with the kind treatment of these animals in their neighborhoods.
Working with area shelters and other rescue/humane organizations to develop a network of supporters and volunteers in order to create a better world for homeless pets.
Facilitating the relocation and transport of homeless pets from kill shelters to other rescue organizations.
MEET OUR BOARD OF DIRECTORS
JENNY - President, Adoption Event Coordinator, Foster Mom, Volunteer
SANDY - Treasurer, Volunteer Coordinator, Foster Mom, Volunteer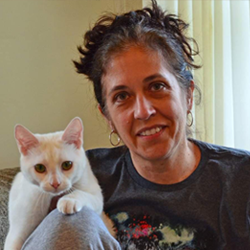 POLLY - Database Coordinator, Kitty Care Coordinator, Foster Mom, Volunteer
MICHELLE - Marketing/Communications Director, Foster Mom, Volunteer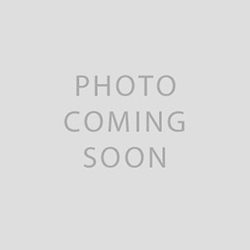 DIANA - Petco Coordinator, Foster Mom, Volunteer